Servant
System "Servant" is the most important core system in game. Players can check the growth process of their servants and summon the new servants.

Servant list:
Log in the game, tap "Servant" and players will see the their servants above which have already been summoned. The servants shows below have not been summoned yet. Players need to use 10 scarps to unlock 1 servant with star level-1, 20 scarps to upgrade 1 servant to star level-2 and 50 scarps to upgrade 1 servant to star level-3. Meanwhile, summon servants will consume relevant gold.

Level up:
Clear dungeons and using EXP books can enhance the Exp and levels of servants. But the level of servant cannot exceed the level of master.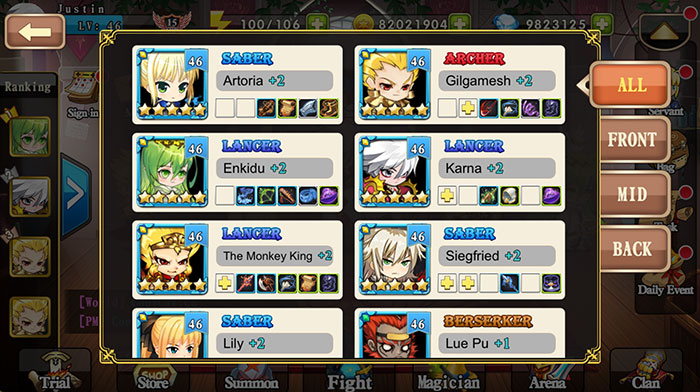 Equipment and rank up:
When players tap "Servant", the item shows at the right site of the servant will be available to be equipped. Servants can equip this item directly and get the item via from relevant dungeons. When equips 6 required items, the servant will rank up and it's power and quality will be enhanced which may unlock the new skills.

Completed summon:
Players can enhance the star level of those servants which have been summoned via completed summon. Players need to collect enough scarps and golds to enhance the star level.

Upgrade skills:
Players not only can upgrade the skills of Master, the skills of servants also can be upgraded. The skill of white servant have one default skill. The skill will be unlocked with the growth of the quality, but the level of skills cannot exceed the level of servants.